Airports reopening in Nigeria: Ten things you need to do before you can board a local flight
The Federal Government on Monday approved the resumption of domestic flights in major airports of the country.
Before the announcement on Monday, airport staff have been hard at work preparing to welcome back passengers.
Ahead of the opening, Aviation Minister Senator Hadi Sirika visited domestic terminals of the Nnamdi Azikiwe International Airport, Abuja and Murtala Muhammed Airport, Lagos on Saturday to assess the measures put in place to protect airport staff and travellers.
Here are 10 ten things passengers need to know before they can be allowed to board a plane.
1. People who are planning on travelling should arrive at the airport at least an hour earlier than usual.
2. Only passengers will be allowed inside the terminal buildings and temperature screenings will be conducted by Port Health at all entrances.
3. To ensure proper sanitisation and screening at airport entrances, a number of access points will be closed .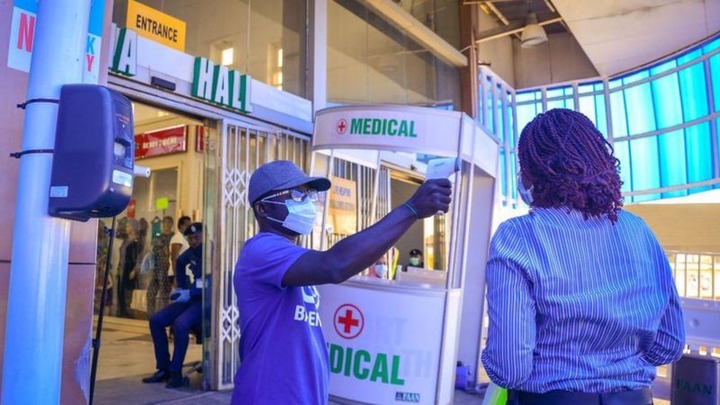 4. Passengers will be required to wear a mask at all times and physical distancing rules will apply throughout the airport. To assist with this, stickers on the floor mark the distance of 1.5m that you should keep from other passengers. Airport benches have been marked to indicate seats that should be left open.
5. Physical distancing rules will also apply when queuing to board an aircraft and boarding will be done in a controlled manner to allow passengers travelling the rear seats to board first.
6. Bag wrapping will now also be compulsory for all check-in luggage.
7. A new feature to look out for is a "Covid-19 essentials" vending machine, which is filled with disposable masks, hand sanitiser gel, wipes and tissues.
8. No more physical contact between airline staff and passengers. Passengers are now to detach their boarding passes themselves and drop inside containers that have been made available.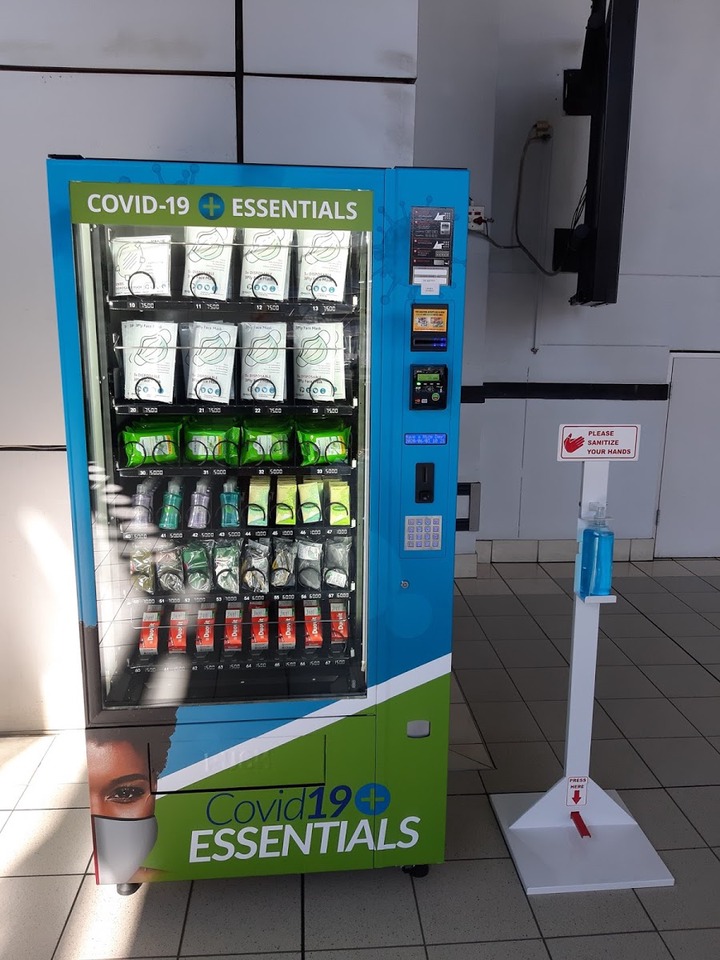 9. To reduce contact between passengers and airline workers, airports will use robots to do some of the processes that airport officials were doing before.
10. To ensure safety on board, aircraft will be disinfected between flights and a high efficiency particulate air filter (Hepa) filter, which kills bacteria, will clean the air throughout the flight.
Another Lagos LGA chairman dies
Hon. Olufunmi Rafiu Olatunji, Chairman of Eti-Osa East Local Council Development Area in Lagos is dead
Chairman of Eti-Osa East Local Council Development Area in Lagos Hon. Olufunmi Rafiu Olatunji is dead.
Olatunji died on Monday night.
It was gathered Olatunji had been battling with illness before his death.
He will be buried in accordance with Islamic rites today at his residence in Sangotedo, Ajah, Lagos.
Before his demise, he was seeking re-election on the platform of the ruling All Progressives Congress (APC).
He emerged winner in the APC local government primary election with 1977 votes to become the party's candidate in the forthcoming July 24th election.
Confirming his death, his Media Team on Tuesday morning in a Facebook post said: "With sorrow in our heart but in total submission to the will of Almighty Allah (S. W. T), we announce the passing, after a long battle with illness, our dear father, brother, friend, confidant, role model, Nation-builder, Hon. Olufunmi Rafiu Olatunji.
"He was until late night of Monday 21st June, 2021 the Executive Chairman of Eti-Osa East Local Council Development Area, Eti-Osa Local Government.
"He will be buried in accordance to Islamic rite by 9 am prompt at his residence in Sangotedo, Ajah, Lagos. We invite you to join us in paying the last respect to our beloved father, brother, friend and Boss.
"We are confident that Almighty Allah will grant him Al Jannah Firdaus."
In a terse statement, chairman of Lagos Mainland Local Government, Hon. Mrs Omolola Essien expressed sadness over his sudden demise.
She said: "We commiserate with his family, friends, colleagues and staff of Eti-Osa Local Council development Area and pray against such unfortunate deaths in our fold.
"And On behalf of the good people of Lagos Mainland Local Government Areas, I want to express my heartfelt condolences to the Conference 57 Chairmen, his family and pray that The Good Lord grants the people he left behind the fortitude to bear the loss and make paradise his final abode."
Lagos Assembly passes LASIEC Amendment Bill
The Lagos State House of Assembly has passed the State Independent Electoral Commission, LASIEC (Amendment) Bill, 2021 for passage into Law.
Speaker of the State House of Assembly, Mudashiru Obasa on Monday, passed the bill Having gone through its first, second and third reading at the plenary.
Obasa stated that: "The Election process of the Local Government and LASIEC which has started with the Parties contesting for the position is possibly affecting the tenure of the existing LASIEC Officials and the State needs to be on the safe side, hence, the need to look at the laws and amend where necessary to protect the effort of the Lagos State Independent Electoral Commission.
"The Intended Bill will empower the Governor to elongate the tenure of the officials of LASIEC and I think the six month proposed is too wide in this consideration because we need to be ahead in order to protect the State, so I proposed three month."
The Chairman of the Committee on Judiciary, Human Rights, Public Petitions and LASIEC, Victor Akande, stressed that the amendment being proposed was needed to ensure the Bill gets the necessary backing in order to stand the test of time.
Akande stated: "Only a singular fraction of the Bill is amended; the Bill also seeks to give the Governor the leverage to be able to use his power in case the tenure lapses. It is a good amendment in the right direction."
Other members who made contributions, noted that the proposed amendment is a worthy one because the House and its democratic dispensation must ensure that it abides by the rule of Law.
The only addition is subsection 2 of the extant Law which provides for legislation that will necessitate the extension of the tenure of the Electoral Commission to perform it duties is however proposed to be amended since the Constitution states that no part of the people from the Commission shall administer themselves as democratically elected among the selection in the electoral process.
DSS releases Kano singer detained for Blasphemy
The Department of State Services (DSS) has released an Islamic singer, Ahmad Abdul, taking into custody after releasing a blasphemous song.
DailyTrust reports that Abdul was picked by the security agents for releasing the uncensored song titled 'Barhama Gwaska', perceived as blasphemous and capable of creating chaos in the state. The DSS had said it took the singer into protective custody to avert likely violent reactions against him from Kano residents.
While in detention, Abdul tendered an apology to the entire Muslim community, Kano state government, and Islamic scholars.
Confirming his release from custody today June 21, the Executive Secretary of Kano State Films and Video Censorship Board, Ismaila Na'abba Afakallah, said he had received hundreds of petitions against the song from concerned citizens. Afakallah said he reported the singer to the DSS which later arrested him at a hotel where he had been hiding for days to save him from the mob.
"He has been released as he regretted and apologised over his offence, promising not to repeat it" Afakallah said